Change
Current Location:
SW1W 8EL
Kiddy, Energy Pro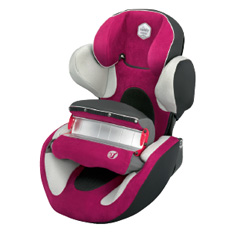 RRP: £169.90
Weight: 5.2g
Group: 1
Visit Website

This Group 1 car seat from Kiddy has further improved on the Kiddy Infinity Pro design. This seat offers great side impact protection from the headrest and the Kiddy Impact Shield which secures the child along the front, rather than using the five-point harness. The back is height adjustable and there is a 2-way baby insert cushion. Fully washable fabric and a lightweight shell that is ideal of moving from car to car.
Reviews
Reviews in chronological order (Total 2 comments)
Rating: 9.0 / 10

joeylindy, Mother of 3, East Sussex


29 Jun 2011 12:13pm


When I got this seat I had the usual feeling of dread about fitting, worrying whether it was in right, etc. In fact, looking at the instructions I couldn't believe how simple it was. It also looks very smart and people are constantly commenting on how different it looks. My youngest (19 months) had spent about a week trying it out indoors and was very excited when we got it in the car. She loved it. I also tried her five year old brother in the seat, but felt he was too big to be comfortable - a smaller four or five year old would be fine. The fitting was as easy as any I've had, lightweight and with various comfort reclining options and easy instructions to get the right height for the child by removing or adding cushions. It works on a similar principle to booster seats, with just the seat belt around the chair, apart from, of course the shock absorber in front. Easy to move between cars and very easy to put the toddler in, as long as you 'wedge' them in first with the booster! She does occasionally kick the front protector off when she first gets in, so you need to be quick to get the belt around and then no problem. Luckily she has learnt what 'put your arms up' means which makes it a lot easier. In more general terms she is very comfy in the seat and loves laying her arms on the front part. She is also much more comfortable sleeping in the car as her head falls on a 'shelf' rather than just dangling around. The seat definately seems safer than others as you do get a much greater sense that in the case of impact the baby would be much more protected. For the time being I am very happy with this car seat, and will be keeping it as long as it lasts. Cleaning has been easy as the cover are simple to remove and the top part of the Shock Absorber is in a wipe clean material - very handy if the child has eaten in the car. The only possible downside I have noticed in this recent hot weather is that she does get quite hot in the chair, but as that is not a major problem in England I'm not too worried. May think about using a different chair if I was going somewhere hot. In general, having had a number of seat over the years, I would recommend this style over the more usual 5 point harness systems for comfort and peace of mind.

Rating: 7.0 / 10

fruitbat, Mother of 2, Essex


14 Mar 2011 11:20pm


When i first opened this car seat i loved it! Super light, great recline and no weird method to hook seat belt into holes and feed through material or squashing hands round corners!! My youngest(22months) was very happy with the shock absorber part that sat on her lap and gave her a table, she plays it like the drums when she's listening to music and holds her dolls or little toys on it. My older one (3 1/2) wasn't so keen on the shock absorber bit as it was different to his other car seats but he soon wanted to try it as his sister had liked it! It was really really easy to alter the seat for the different size kids basically just un-clipping the insert cushion and squeezing the clip behind the head rest to raise or lower it no re threading straps through holes etc phew!! We use the seat mainly for the our younger child but if they want to swap it's not a problem. The seat is easy to recline and in a car where the individual seat reclines the car seat will follow. This is also the first seat that when I've handed it to my parents and given a verbal instruction or even a demo that they have got it and never asked again how to do it...it is that simple to use it that they got it straight away! I have a couple of negative points, if the child is reluctant to get in the seat and starts kicking around it can be quite difficult to push the shock absorber into place and clip it in whilst holding the child in....only had this struggle once so far but it was quite difficult! secondly bit worried about when the weather is hot that holding the shock absorber on the lap will make the child hot and sweaty and be a bit uncomfortable, havent decided whether to take this seat with us on holiday or use old alternative one. generally very happy with the seat, and would definitely recommend it especially if u need to swap cars alot!!