Change
Current Location:
SW1W 8EL
Britax, First Class Plus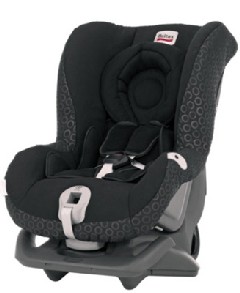 RRP: £159.99
Weight: 7.5kg
Group: 0 and 1

The Britax First Class car seat can be used rearward facing for newborns (birth-13kg) and turned around for forward facing for children (9kg-18kg). The "Plus" feature of the Britax First Class is the "Click & Safe" security feature, which helps parents understand how to create the perfect tension with the 5-point harness. The cover can be removed and washed, and a newborn insert can be purchased to provide extra support in the early weeks.
Reviews
Reviews in chronological order (Total 3 comments)
Rating: 7.0 / 10

harrysmummyjuly09, Mother of 4, West Yorkshire


21 Nov 2011 6:26pm


I bought this has a second stage carseat for my 9 month old boy, this can be used from birth rear facing and forward facing from 9 months +. A mum of 4 children i have had a few seats over the years , this one is strong a bit bulky but seems well made and once strapped in the car is very tight and does not move. On my first use i struggled with the installation and it took over a hour to install and i found the instructions unclear . The seat reclines and my toddler seems to be well strapped in in the harness . The harness is well padded for comfort . The harness also can be adjusted to height and tightness via a level type button and it is easily accessible. My only fault i have found is the cover is all bobbling and worn after a years use from britax and the price of this i expected to last a little bit longer , although replacement covers are available .

Rating: 8.5 / 10

Rachael28


15 Nov 2011 2:29pm




This car seat supports your baby in all the right places including their neck and head. My son is large for his age and we needed to upgrade to a permanent seat. As he is only 5 months old we had to have one that was rear facing. To my delight this chair rear faces up to 29lb and then turns to be forward facing up to 4 years of age. Its great how it grows with your child and as an added bonus it tilts back so no more falling asleep with his head forward. The only down fall is having to get in the other side of the car with my little boy to lift him into the seat while it is rear facing due to the seat belt getting in the way but thats a small problem for the safety and comfort of my son.

Rating: 8.5 / 10

XxaMyXx121, Mother of 1, North East Scotland


8 Nov 2011 2:34pm




We bought this car seat when our daughter was 4 months, as she was so cranky in her baby carrier/carseat. Since buying this car seat, we have driven all over the place without tears. Elice loves it! The care seat is soft and padded, supportive and easy to use. The seat is also very easy to clean if your baby has any accidents...which they're bound to have. The fitting of the carseat is also very straight forward. And saves you money in the long run as it is suitable from birth to four years. Comes in a wide selection of colors to suit your taste.