Change
Current Location:
SW1W 8EL
Britax, Evolva 123 Plus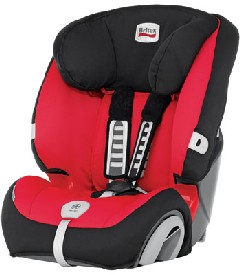 RRP: £159.99
Weight: 8.2kg
Group: 1, 2 and 3

The Britax Evolva 1-2-3 has been designed to grow with your child from around 9mths to 12 years. In the early years you use the 5-point harness to secure the child, which can than be stowed away, when you switch to using the car's own 3-point seatbelt. So not only does the seat have good longevity, but good for grandparents too needing to transport a range of children with different age ranges, heights and weights. The "Plus" aspect of the Evolva uses the "click & safe" audible harness which ensures you are tentioning the harness to the correct position. Fabric options include red, grey, blue and green.
Reviews
Reviews in chronological order (Total 1 comments)
Rating: 8.5 / 10

evahnt, Mother of 1, West Midlands


29 Nov 2011 2:03pm




I found this product very light and easy to fit in the car and very stable once fitted. The instructions are easy to follow and my little lady looks very snug in it. One of the main things I like about this product for my daughter's age, nine months, is that I can have the seat in the recline position which seems more comfortable for her and also the side head supports, I do hate to see babies heads flopping and her doesn't when she falls asleep in this. I would recommend this product as I have not found anything that I do not like about it. As I said my daughter is only nine months so have not tried the other seating positions that you can have.