Change
Current Location:
SW1W 8EL
Tommee Tippee, Closer to Nature Digital Ear Thermometer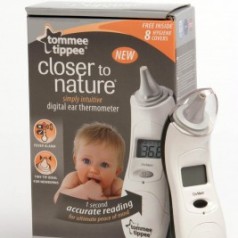 RRP: £34.99
Visit Website

When it comes to nursing your children back to health parents want the best equippement. With that in minnd Tommee Tippee launched a new Closer to Nature Digital Ear Thermometer. Get a quick and accurate temperature by simply placing the tip in your child's ear and pressing the scan button. After just 1 second, a reading is clearly displayed on the LCD screen. Special features include:
A fever alert alarm when baby's temperature is too high.
9 readings memory storage for monitoring baby's temperature.
8 replacement hygiene covers.

Reviews
Be the first person to review this product, just add a review below.