Change
Current Location:
SW1W 8EL
Nibbling, Rattle Ring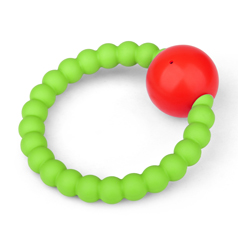 RRP: £10.00
Material: 100% Silicone, BPA free
Colours: red & green, turquoise & orange

A great idea for a teether that is always within easy reach, and stops mum's jewellery being pulled and stops baby from potentially hurting her gums. Made from safe non toxic silicone, that's BPA and heavy metals free, which has a pull apart clasp, so it doesn't shatter or hurt mum if baby gets a little too rough pulling and chewing.

Elegant, and also tactile for baby, the teether is made from soft silicone, and is dishwasher safe, but can also be hand washed or steam cleaned.
Reviews
Reviews in chronological order (Total 1 comments)
Rating: 7.0 / 10

lilliesmum


12 Oct 2016 5:42pm




I tested this teething ring as well as a teething necklace, and my daughter enjoyed this over the necklace, she enjoyed shaking it, but after a short while discarded it.

I think there are similar rings on the market, so perhaps something that is an usual shape or features several shapes that are suited to the mouth to keep the baby interested would be a great idea. Even though I'm not the biggest fan of 'Sophie the Giraffe' as the hooves seem quite sharp/angular for the mouth, the good thing there are several different angles and shapes the baby can explore, plus it's cute, so one of the top things that always gets bought for a baby shower.

I did like the rubbery material of the Nibbling products though, they felt really good, not too hard.