Change
Current Location:
SW1W 8EL
Dr Bee, Electronic Nasal Aspirator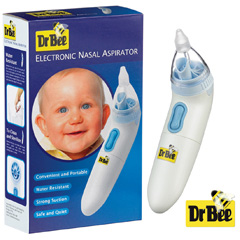 RRP: £32.99

Using this aspirator is very easy. Simply insert the nozzle into the baby's nose to create a gentle seal, once in place the vacuum inside the collection chamber will extract the unwanted fluids from the nose. There are three different sized nozzles, making the apparatus suitable from birth. The nozzles are flexible so should the baby move its head it will in no way be harmed. There are no disposable parts and therefore it is very economical and environmentally friendly. All parts in contact with germs and secretions can be cleaned and sterilised.
This aspirator is very mobile and suitable to be used anytime and anywhere, as it can be held in one hand and the baby in the other. Included in the box are three nozzles, a storage pouch for everyday use or transport in the nappy bag along with batteries.
Reviews
Reviews in chronological order (Total 3 comments)
Rating: 6.0 / 10

kelandwato, Mother of 1, Teeside


3 Dec 2010 12:15pm


My baby is teething with a cold not a good combination and I have never used any of these things before but I wasn't really struck. He didn't like the thing stuck up his nose maybe if I'd had done it when he was younger, it did clear his nose for a while but it was a pin and fiddley to clean all in all ok but not fussed don't think I would use regularly

Rating: 7.0 / 10

4, East Sussex


2 Dec 2010 11:39pm


The Dr Bee is the aspirator that seems to separate you most from your baby's snot: you don't have to suck on a tube, or operate a squeezy bulb. No, this is very easy to use (point, hold and press a button) and reassuringly hygienic. However... I found it very fiddly to take apart to clean. Too many small pieces to take off and reassemble (if you've not lost them behind the draining board). You also need batteries. It's just as effective at de-snotting your child as other aspirators; no more, no less. Is the extra price for a high-tech solution worth it? For me, no - I've tended to stick to my manual squeezy bulb because that's far faster to use, clean, dry, reassemble and use again.

Rating: 6.0 / 10

brightlights, Mother of 3, Staffordshire


24 Nov 2010 3:19pm


I always struggle with my little one when he gets a cold - trying to drink from his bottle with a blocked nose and getting upset about it because he cant breathe and suck at the same time without letting go of the bottle and breathing through his mouth. Having tried the aspirator I am still unsure about it. There are different sized nozzles which make it easier to fit properly, this is very good. But when the suction takes hold my little boy did not like it one bit. Then when I went to use it again he knew what was coming and I could not hold him still enough to insert the aspirator and use it as well. It sort of helped but not enough to make it easy for him to breathe - all it did was stop his nose running for a minute or so. I'm undecided about the product at the moment and will give it another go when he next has a cold or runny nose but to be honest would neither recommend this to a friend or buy it myself. Cleaning of the aspirator was however quite easy, and I do like it that it totally waterproof and can be steam sterilised.