Change
Current Location:
SW1W 8EL
Avent, Baby Monitor SCD530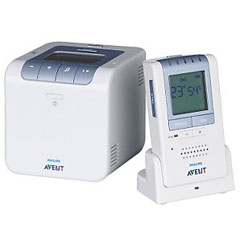 RRP: £100.00

This is a fab new, top of the range monitor from Avent with temperature and humidity sensors (what will they think of next)! The monitor has a zero interference guarantee so you can't listen to what your neighbours are up to; a humidity sensor to keep your baby's room at optimum humidity; the parent unit is rechargeable but then lasts for 24hrs and you can turn the sound off and just use the light display; 330m reception range so good for around the home and in the garden.
Reviews
Reviews in chronological order (Total 1 comments)
Rating: 6.5 / 10

Clare, Mother of 2, London


18 Feb 2010 8:11pm


Ordered this online and just received it - and it's much smaller and neater than it looks on the packaging. My DS is prone to chesty coughs so it's been interesting to watch the fluctuating humidity monitor - not least cos the weather has been so changeable. great idea.