Change
Current Location:
SW1W 8EL
Joules Baby, Moses Basket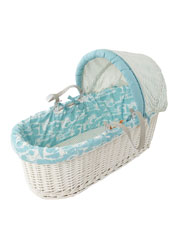 RRP: £85.00

This traditional white wicker moses basket is a classic amongst some of the more modern alternatives. It comes with white leather carry handles, a detachable protective hood, fitted sheet and cosy "On the Farm" print cover. If you need a stand then we recommend the basic Mothercare stand.
Reviews
Reviews in chronological order (Total 1 comments)
Rating: 9.0 / 10

ash_humphreys89, Mother of 2, London


10 Oct 2012 7:11pm


I really enjoyed testing this product, and the white leather carry handles made it a joy to carry my newborn around from room to room. Having said that, I would say that £85 is asking a tiny bit much for the quality of the product. The "protective hood" for example is made from very thin material so it tends to lift off the back of the corners of the mosses basket quite easily which can be a pest readjusting every time this happens. On the other hand, it is still quite nice having a hooded mosses basket so it is most definitely a pro. I was expecting the mattress to be a bit thicker, well for the offered price, I did expect some kind of added comfort, but i was sadly let down. I did like the fact that it came with a fitted sheet and the matching stand however, also the matching reversible cosy was a definite plus. All in all as long as your baby is happy with the product then it is most definitely a keeper and my son had no problems whatsoever sleeping in this basket so i would rate this product a 9/10.