Change
Current Location:
SW1W 8EL
East Coast, Anna drop side cot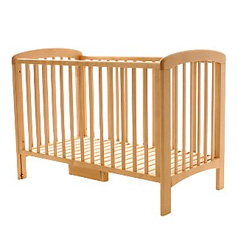 RRP: £130.00
Age range: birth to 2.5 years approx
Dimensions: L 125cm W 68.5cm H 96cm
Visit Website

East Coast offer a large range of cots to suit any budget. All are good quality and offer differing designs to suit your tastes – from simple modern pine, to more traditional-looking antique models. Available in places like Tesco, Boots and Mothercare, the Anna is an appealing cot that looks good and offers solid craftsmanship at a reasonable price. It has three settings for the mattress height and teething protectors along the rails. This model has a drop side which can be activated with one hand (useful if you are holding your baby when you want to get easy access to the cot).
Reviews
Be the first person to review this product, just add a review below.