Change
Current Location:
SW1W 8EL
Bloom Baby, bloom alma cot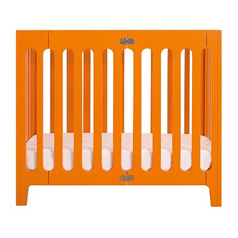 RRP: £300.00
Age range: birth to 2 years approx
Dimensions: L 94.4cm W 49.5cm H 83.2cm
Visit Website

The smartest cot in town! This wood and steel creation looks sleek and stunning (in muted or bright colours) and can double up as a travel cot because it folds down flat really easily. You don't need to use tools to put it up, and the locking positions where it folds are carefully designed so little fingers are never at risk. It comes with four lockable castors for easy moving and secure standing, too. It's slightly smaller than most regular cots but should still see you through until your child is ready for a proper bed, and it has two base settings – one for newborns and then full depth for larger babies and for toddlers. The mattress (44cm x 89cm) is sold separately.
Reviews
Be the first person to review this product, just add a review below.