Change
Current Location:
SW1W 8EL
Storksak, Emily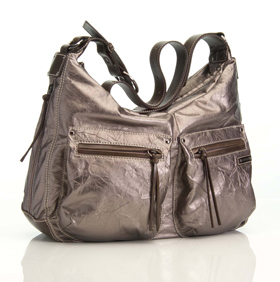 RRP: £89.00
Visit Website

As worn by Angelina Jolie, this bag is fashionable, fully functional and on-trend. This is the perfect bag for casual or formal settings. Made from durable satin, and trimmed tasselled zip pulls. With an adjustable shoulder strap, two outer zip pockets, built-in insulated side bottle pockets to keep bottles perfectly upright. Featuring an inner zipped detachable bag perfect for make-up or other small items. Includes a padded changing mat. Hardware on Black, Chocolate and Antique Rose is gold. Hardware on Emily Pewter is Gunmetal.
Reviews
Reviews in chronological order (Total 2 comments)
Rating: 10.0 / 10

twinklenic, Mother of 2, Cheshire


5 Oct 2012 10:16am


I was given this bag by my sister as a pressie when i was pregnant. I had admired the bag from afar but was reluctant to spend so much money on a bag. My sister had previously owned a different storksak bag and was impressed so bought me this one. After unpacking the bag and using for a week or so i really dont know how i would cope without it!!! it has several pockets, included a little bag , a bottle warmer pouch , a foling changing mat and was all made in wipe easy material. The little bag can be taken out and is excellent for popping in dirty bibs or vest . I love the bronzy colour of it too . over all im extremely pleased with the bag and the price is well worth it as its still going strong!

Rating: 9.5 / 10

Clare, Mother of 2, London


31 May 2011 5:09pm


I always thought Storksak bags might be too expensive for my budget, but I bought this in the spring and I get loads of compliments about it. Loads of pockets for stuffing everything, but zips to keep mobile safe etc love the pewter goes with evertyhing.