Change
Current Location:
SW1W 8EL
Il Tutto, Mia Tote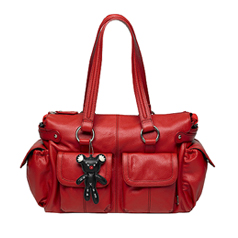 RRP: £249.00
Width: 40
Height: 28
Depth: 28
Further Information

The Mia Tote is made from Italian Nappa leather and features numerous external pockets to keep things at easy reach, with the end pockets insulated so you can keep things warmer or colder for longer.
The Mia Tote features 'stroller straps' which allow the bag to be attached to the pram or pushchair at a height that doesn't allow it to easily knock into the legs of the person pushing the pram or pushchair, and also stops it being easily taken by potential thieves.
As well as having numerous pockets within the bag, the lining is also able to be zipped out, so that it can be removed for washing, and also once your baby needs are over can be removed so it can be used as a regular hand bag.
Extras include
Insulated bottle holder
Waterproof changing mat
Clear plastic zip purse - for wet items
Reviews
Be the first person to review this product, just add a review below.