Change
Current Location:
SW1W 8EL
ColdZyme, OneCold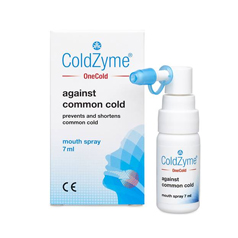 RRP: £9.99

ColdZyme Mouth Spray contains a unique marine enzyme that helps build a protective barrier on the mucous membranes in your throat and makes it harder for the cold virus to cause illness. ColdZyme Mouth Spray, reduces the risk of catching cold and may help to shorten the duration of illness if initiated at an early stage of the infection.
UseColdZyme as soon as you detect symptoms of a cold, and continue using until your symptoms have subsided. If symptoms are still there in 10 days consult your GP.
Reviews
Reviews in chronological order (Total 1 comments)
Rating: 9.0 / 10

lilliesmum


8 Jan 2015 5:20pm


I was a bit sceptical when I first tried this throat spray, but I had heard that it was supposed to work. I used it when I was suffering from a mild cold and I personally thought it worked in helping to shorten the length of the cold (they usually drag on for me). I thought it might have an unpleasant taste but it was actually quite sweet and with the shape of the nozzle was easy to get it to the back of my throat. I recommended it to my mum too as she is quite susceptible to colds. I will definitely use this product again when I feel the first tingle of a sore throat coming on, and think it is definitely worth the money!