Change
Current Location:
SW1W 8EL
herpatch, Mouth Ulcer Gel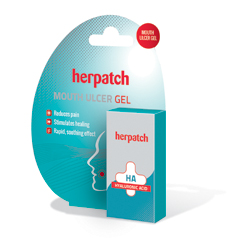 RRP: £7.99

Herpatch Mouth Ulcer Gel is a clever film-forming gel, which creates an adhesive physical barrier over painful ulcers, eliminating pain instantly. The gel helps to heal the ulcer, by forming a barrier which stops the sensitive area being irritated. It also contains Hyaluronic acid, which reduces inflammation and stimulates healing. It can reduce the time it takes a painful ulcer to heal by 50%.
Suitable for the whole family, from infants and children to pregnant women, the Mouth Ulcer gel is alcohol free.
Reviews
Reviews in chronological order (Total 1 comments)
Rating: 9.0 / 10

Robyn1, Mother of 1


8 May 2015 5:25pm


I used this recently when I had an ulcer on the edge of my lip. I hadn't used one of these barrier gels before, and it was an instant relief! I get ulcers quite often when I am run down or over tired (standard for a mum I guess?..) but have just used salt water in the past. This did seem to reduce the usual time it takes for an ulcer to heal, so I ill definitely keep this in my handbag and use in future!