Change
Current Location:
SW1W 8EL
Spinbrush, Kid's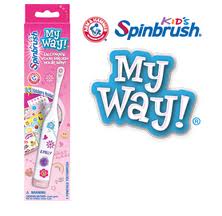 RRP: £5.99

Brushing needn't be a bore with these fun, personaliseable tootbrushes.
With over 140 stickers, kids can get creative with these battery powered spinbrushes. Despite the novelty value, these are good quality toothbrushes and the packaging will make a tedious chore a little bit more palatable.
The brushes are supplied with AAA batteries which are included. The head is, unfortunately, not replaceable, so it has a similar life-span to that of the humble, manual toothbrush, however they are certainly a lot more flamboyant than standard brushes.
Reviews
Reviews in chronological order (Total 4 comments)