Change
Current Location:
SW1W 8EL
Lala and Bea, Organic Nourish Oil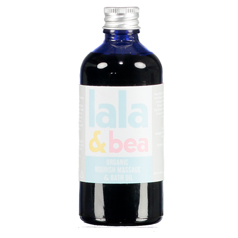 RRP: £14.50
Volume: 100ml

Luxurious nourishing oil belnded with sweet almond oil and oat oil to moisturise the skin, with the calming and relaxing aroma of sweet orange, geranium, bergamot and cardamom to de-stress, ease tired muscles and soothe the skin.
Suitable for use during pregnancy. This is an adult only product, it's aromatherapy oils, may be a little too strong for babies delicate skin.

All the ingredients are organic, and this product is not tested on animals.
Reviews
Reviews in chronological order (Total 1 comments)
Rating: 9.0 / 10

lilliesmum


23 Sep 2015 1:25pm




I was given this oil to test, and I ave to say a product like this isn't something I would usually buy. I do have massages now and again, but wouldn't think to buy an oil that could double up as a massage oil for use at home. I did use this as a massage oil, and I was pleasantly surprised. It felt quite thick and luxurious, but wasn't too greasy and could be washed off easily. I really like the aroma too, it had quite a herbal/floral smell, and I could detect the sweet citrus orange smell which I like. I also used this in a bath for a muscle soak, and the aromas with the warm water gave off a very relaxing feel. A bath with this oil, followed by the Lala & Bea pillow spray made me feel very calm and relaxed before bed I must say!

Although it isn't something I would think to buy myself, it does make a lovely gift, I think it would be a great gift for a new mother, and I would definitely consider buying this along with the nourishing balm for a friend who has recently given birth, for a caring/pampering gift.