Change
Current Location:
SW1W 8EL
Tommee Tippee, Steam Steriliser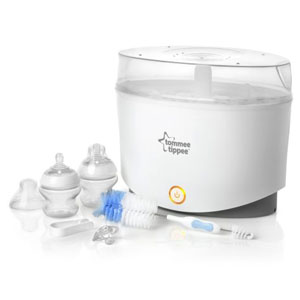 RRP: £40.85

The Tommee Tippee steam steriliser holds 6 Closer to Nature bottles, teats, the dome tops as well as the tube attachments for the anti-colic bottles and has just a 5 minute run time. There's a single push button which glows orange when switched on and goes off when the cycle is finished five minutes later (although you need to allow three minutes to cool down).
Reviews
Be the first person to review this product, just add a review below.