Change
Current Location:
SW1W 8EL
Fisher Price, Fisher-Price Electric Steam Steriliser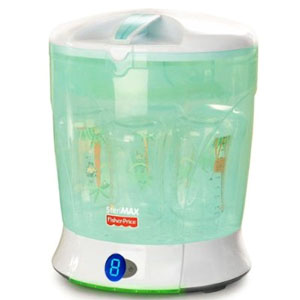 RRP: £54.99

The Fisher-Price SteriMax steriliser can take all major manufacturers wide and narrow necked feeding bottles. It has an ultra bright LED and digital combination display which indicates clearly RED for hot, do not touch and GREEN for ok and safe to use. The items will remain sterile to use for up to 8 hours after end of sterilisation cycle. The Sterimax comes complete with two 250ml bottles, two medium flow teats, a measuring jug, a training mug, tongs, a top basket, plus a teat and a bottle brush.
Reviews
Be the first person to review this product, just add a review below.