Change
Current Location:
SW1W 8EL
Born Free, BornFree Microwave Steriliser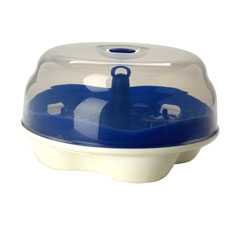 RRP: £24.99

The BornFree Microwave Steriliser is made with Bisphenol-A free plastic and will sterilise up to 4 bottles, teats and other bottle parts in approximately 4 minutes. It has special grips which make opening and removing it from the microwave easier.
Reviews
Reviews in chronological order (Total 1 comments)
Rating: 9.0 / 10

marmotase


30 Sep 2012 10:28am


Excellent product, especially grateful for it at night or when staying at someone else's house as it is a lot less hassle just to use this in the microwave. I also have a smaller version of a travel steriliser which is excellent to allow you to nip away for the weekend without having to pack the entire house! Only downside is it doesn't fit in all microwaves like my travel one does, so check before you buy!