Nuna, Zaaz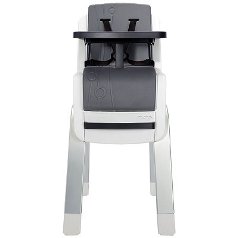 RRP: £180.00
Recommended: Sit up child-100Kg
Weight: 10Kg
Colour: Carbon and Plum
Visit Website
Further Information

The Nuna Zaaz highchair has designer looks but is also practical enough to master messy mealtimes. The clever, modular system allows the chair to grow with your child, as the size and design are totally customisable.
The tray, armbar and footrest can be removed in stages to take your child through their development. The Zaaz changes into a toddler chair and then a stylish chair suitable for older children. The height can also be quickly and simply adjusted to let your little one join you at table height.
The air-foam cushion offers a comfortable seat for eating. The five point harness keeps little one secure and can be changed to a three point harness as your child grows.
There are no crevices, so it's easily cleaned and won't trap food. The removable components can also be popped in the dishwasher for easy cleaning.