Change
Current Location:
SW1W 8EL
Mamas and Papas, Mamas & Papas Prima Pappa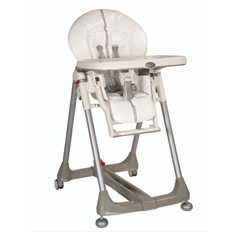 RRP: £175.00
Visit Website

This award winning highchair features a new and improved four-position seat recline which adjusts with an easy one hand operation to suit your baby's needs. The anatomically shaped seat provides guaranteed essential back support and comfort for your baby.
The padded leatherette seat is removable and easy to clean, and has seven seat height positions to provide flexible dining heights.
Reviews
Reviews in chronological order (Total 1 comments)
Rating: 2.0 / 10

WendyB, Mother of 2, Worcestershire


17 Nov 2010 1:15pm




Bought a Prima Pappa Highchair and paid a small fortune, and within a few months the cover split, not very impressed at all :-(