Change
Current Location:
SW1W 8EL
Mamas and Papas, Mamas & Papas Bistro Baby Highchair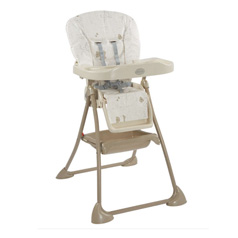 RRP: £80.00
Visit Website

A stylish, deeply padded highchair with a reclining seat, spacious meal tray, and handy additional storage tray which is ideal for mealtime accessories or toys.
Reviews
Reviews in chronological order (Total 2 comments)
Rating: 7.5 / 10

amybumps, Peterborough


16 Nov 2010 6:12pm




I have the Mamas & Papas Bistro Baby Highchair which is very good. It is a really good hight and the slidy tray front is extreamly useful. The only downside is it is quite fiddly to clean properly.

Rating: 9.0 / 10

moodymiss, Mother of 1, Lancashire


16 Nov 2010 6:09pm




My current high chair is the baby bistro by Mama's and Papa's. Although basic in design and rather boring to look at the chair is wonderfully functional and easy to use and more importantly safe and comfortable for baby.