Change
Current Location:
SW1W 8EL
Hauck, Mac Baby Deluxe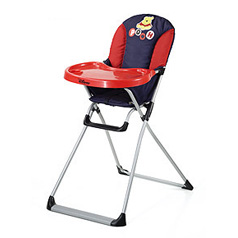 RRP: £49.99
Width: 53 cm
Height: 103 cm
Depth: 70 cm
Visit Website

The Mac Baby Deluxe Highchair is perfect for mealtimes. It has a large food tray with a cup recess can be easily wiped clean.
It has a fixed footrest and 5-point harness, and can be folded away flat quite easily for storage. Suitable from 6 months, it features a Winnie the Pooh design.
Reviews
Reviews in chronological order (Total 1 comments)
Rating: 6.5 / 10

jennycog12, Bedfordshire


17 Nov 2010 4:50pm




Our current highchair is a Hauck. Whilst it has got a wipe-clean, wide tray and can be folded flat, I am a little disappointed with the ability to keep the lining (where my child sits) clean. I wish the fabric was PVC or similar. The cute Disney design on it is very sweet and it is bright colouring that helps my child associate food and feeding times with fun. This highchair was reasonably priced but if I could have a different one, I would upgrade to that model.