East Coast, Wooden Combination Highchair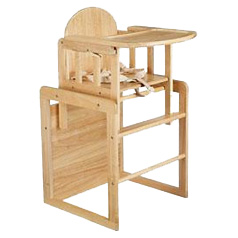 RRP: £74.99
Easy to use: 4/5
Easy to store: 3/5
Easy to clean: 5/5
Visit Website

If you want to get real value for money from your feeding chair, buy a model that can change into a chair for older children to use. Or better still, get this model which turns into a chair and table for your child to sit at for play or to eat!
Suitable from six months, it has a light wood finish, and reall is a nifty idea from a company who make several classy wooden feeding chairs. The chair perches solidly on top of its wooden base, but when not in use, the two halves are taken apart, turned around and suddenly the base is a charming wooden table for the nursery and the top half which uses a harness and tray in feeding mode becomes a child's chair.
The lines are simple and curved and, whilst it's a bit too big to hide away in your cupboard when not in use, your child will love its flexibility.
Look out for online deals with this brand as you can get big savings.