Bloom Baby, Fresco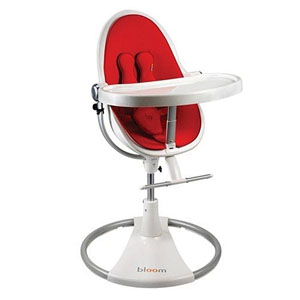 RRP: £270.00
Easy to use: 4/5
Easy to store: 3/5
Easy to clean: 3/5
Visit Website

This super-stylish, space-age high chair is suitable as a place for young babies to sit, then it can be used as a feeding chair from 6 months to 3 years, then it can be used as a normal chair for older children up to 36kg. It comes with a tray or it can be pulled to the table so your baby can eat with the rest of the family.
It's easy to adjust the height of the seat, so if you dine at a breakfast bar instead, your baby can still join you. It comes in lots of snazzy, shiny coloured finishes (some of which are more expensive), and actually the padding is pretty easy to wipe clean.
One other thing in its favour: the solid support it stands on is round – so there's no risk of tripping over long chair legs when it's not in use.