Change
Current Location:
SW1W 8EL
Avent, Manual Single Breastpump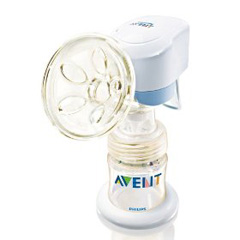 RRP: £44.99
Visit Website

This breast pump has a patented let-down massage cushion. It is easy to assemble and use. It has been clinically tested.
Reviews
Reviews in chronological order (Total 1 comments)
Rating: 9.5 / 10

Tidgymum, Mother of 1, Hertfordshire


30 Jan 2011 10:25pm


Bought this after having an electric pump. Electric was good but this was great when I did not want to be attached to the mains! It worked brilliantly and I was very happy with the options for storage pots for the milk as well as the variety of interchangable parts that go with the pots and bottles. Being mostly dishwasher safe and simple to assemble made it a great buy.