Change
Current Location:
SW1W 8EL
Ameda, Purely Yours Ultra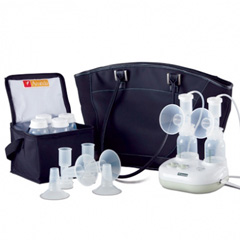 RRP: £299.00
Lightweight: yes
Visit Website

The "purely yours ultra" offers you the flexibility you need with 3 sizes flanges. It is really convenient as it is lightweight, portable and can operate on 6 AA batteries. The HygieniKit™ Milk Collection System features a patented diaphragm that prevents milk from entering the hard-to-clean tubing and pump motor. The HygieniKit is dishwasher safe and can even convert to a manual pump. It includes a coll'n carry tote, a car adaptater.
Reviews
Be the first person to review this product, just add a review below.