Change
Current Location:
SW1W 8EL
Tommee Tippee, Closer to Nature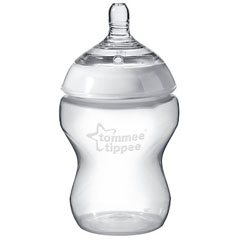 RRP: £8.16

These bottles come in two sizes (150ml and 260ml) and are marketed with "easi-vent" teats which are made from extra soft silicone - designed to make switching between breast and bottle less of a problem, and there is an anti-colic value in it too.
Reviews
Reviews in chronological order (Total 1 comments)
Rating: 9.0 / 10

Tidgymum, Mother of 1, Hertfordshire


30 Jan 2011 10:19pm


I would recommend this product as my breastfed baby was quick to get used to the fairly natural shape of this teat even though she has to go from breast to bottle and back again depending on who is feeding her. If you are buying these you should be aware that due to the wide shape of the bottles very few other related products fit it including electric bottle warmers, travel warmers, and steralisers. It is therefore necessary to go Tommee Tippee all the way when buying accessories!