Change
Current Location:
SW1W 8EL
Avent, Feeding Bottles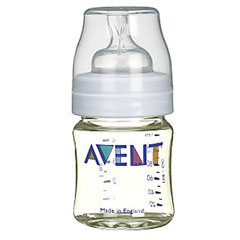 RRP: £5.50

Avent makes a fairly widely available range of feeding bottles (BPA-free) and is a great low cost start if you are expressing or bottlefeeding. The bottles have a unique air flow system that is meant to reduce bubbles in your baby's tummy or colic-like symtoms. The bottles have a separate adapter which allows you to attach them directly to a breast pump (manual or electric). The teats come in a variety of sizes based on age and the bottles come in 125ml or 260ml sizes.
Reviews
Reviews in chronological order (Total 2 comments)
Rating: 10.0 / 10

popsickle, Mother of 1, Cumbria


6 Feb 2011 8:49am


I think Avent bottles are great, reasonably priced & easy to use. Anti colic teats too.

Rating: 5.0 / 10

Abi, Mother of 2, Oxfordshire


31 Mar 2010 11:19pm




I had to top my baby up with expressed breast milk when he was newborn as he was not taking enough directly from the breast. I have the manual Avent breast pump which came with a couple of bottles, but I found that my baby had difficulty drinking from these bottles when combined with breastfeeding. He was much more comfortable with the bottles shaped more like a breast. However, had my baby taken to them I would have used the Avent bottles are they are good quality and attach directly to the breast pump.