Change
Current Location:
SW1W 8EL
Maybe Baby, Ovulation Tester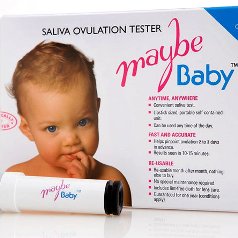 RRP: £40.00
Further Information

Maybe Baby is a saliva-based fertility tester that can detect ovulation 2-3 days in advance. The tester helps chart your cycle on a daily basis and, because it has no expiration date (other than needing new batteries from time to time), it can be used over and over again. For a longer review of the product click here.
Maybe Baby costs £40 from www.maybebabyovulation.com or at Rowlands online pharmacy www.rowlandspharmacy.co.uk.
Reviews
Reviews in chronological order (Total 2 comments)
Rating: 9.0 / 10

Mrslamb1987, Mother of 2, West Yorkshire


23 Apr 2012 12:02pm


I love the maybe baby ovulation tester- after 19months of ttc baby number 3, I've just found out I'm pregnant after using the product for the first month!!!! I'm thrilled, as soon as I began to see the ferning, which coincided with the time I suspected I was ovulating- me an my hubby had sex daily until the ferning ended! To my amazement, I used the tester again four days before my period was due (just out of curiosity) and the ferning had started again, for me this was a sign my hormone levels were changing and that I was indeed pregnant!!!!! I would highly reccomend this product to anyone trying to conceive, it was easy to use and reliable and too the stress and complication out of ttc!!! Thankyou so much baby directory fr allowing me to use this great product:-)

Rating: 8.0 / 10

newmum40, Mother of 2,Oxfordshire


30 Mar 2012 4:16pm


I saw this come up for test and review and thought great i have to try it,i found it very easy to use with simple easy to follow instructions and pictures so you know what to look for,the test is easy to use and small and discreet and can be used anywhere at anytime you just need to leave 3hrs free of food and drink apart from water before you do the test,its great if your like me have irregular periods which makes it difficult to pinpoint the right time when your ovulating,ive only been using it for a month but it has taken out the stress of trying to figure out when im ovulating and whens the right time,i would definatley recommend that anybody who is trying for a baby to give it a go