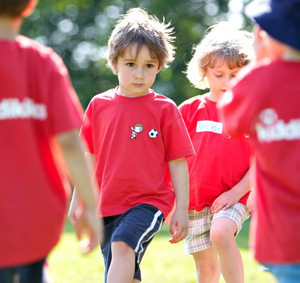 At Kiddikicks our aim is to put the fun into the fundamentals of football. Drills are based on touch, retaining and striking the ball as much as possible coupled with a disciplined coaching style. The program also helps younger players achieve all the Early Learning Goals as set out by the Department of Education.
Ultimately classes are fun and very popular - see our testimonials page at www.kiddikicks.co.uk.

We look forward to being on the ball with your young player soon!
Call Kiddikicks HQ 020 7937 7965 or email us info@kiddikicks.co.uk for further information about this class or classes at any of our other venues including;
Bracknell, Bushey, Chiswick, Hackney, Holland Park, Hornsey Vale, Hyde Park, Kilburn, Maida Vale, Parsons Green, Queens Park, Regents Park, Richmond, Sheen, St John's Wood, Stoke Newington, Teddington or Wimbledon.

See you soon!