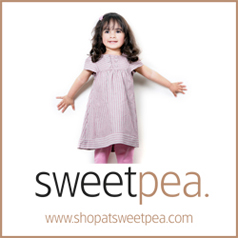 0845 519 9154

Visit Website
Request Information
Sweetpea is a new on-line baby and childrenswear shop that has been inspired by children, fashion and design.
The heart of the business is about offering a real alternative to high street shopping with easy-to-wear, affordable designer clothes that are of a high quality, well designed, don't lose their shade or their shape and will take littles ones happily from the park to a party.
They are making new and exciting brands more accessible such as Beau Loves and Tappa Nakki which has just launched this year in the UK and they will be also be introducing Nice Thing Mini, a Spanish brand, for which sweetpea will be the first UK stockist.
Other up and coming brands include Aya Naya from Denmark and Bebe by minihaha from Australia. It also stocks well know favourites such as the fabulous French brand Weekend a la Mer and the gorgeous babywear collection by Toffee Moon.
As well as fashion there is a small collection of imaginative gifts by Kiko and gg* both Japanese toy designers as well as the famous Chimen Magents. There is also available the awards winning Baby and Grandchild Memory Books published by Fill&Tell - always successful presents.
Sweetpea offers free returns and free delivery on purchases over £50. All purchases are packaged in a beautiful canvas bag, making your shopping feel extra special. The customer service team are at hand and happy to help with any of your shopping or delivery needs.
Shop at sweetpea for simple, easy -to-wear, affordable designer fashion for boys and girls aged 0-6.