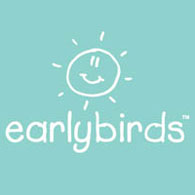 0800 756 5404

Earlybirds is a beautiful collection of gorgeous and practical clothing specially designed for those precious babies who come into the world early, or arrive as small bundles. Earlybirds' Sunnydays and Organics collections are available in sizes 800 grams to Newborn.
Reviews
Reviews in chronological order (Total 1 comments)
Clare, Mother of 2, London


23 Apr 2010 6:53am




Just received my first order from Earlybirds for a friend and the quality is just way better than anything I've seen in stores. Also, I didn't get the sizing right first time so had to send back and it was no problem - done really quickly. highly recommended and really nice, understanding people to deal with.
Quick Links:
My Area:
Baby and Nursery Interiors
,
Baby and Toddler Swimwear
,
Baby Bedding
,
Baby Clothes Accessories
,
Baby Clothing
,
Baby Cream
,
Baby Fashion
,
Baby Feet Casting
,
Baby Food
,
Baby Gifts
,
Baby Hire
,
Baby Photography
,
Baby Products
,
Baby Products Online
,
Baby Products Personal Shopping
,
Baby Shoes: Online
,
Baby Toys
,
Birth Announcements
,
Bookshops
,
Car Safety
,
Carriers and Slings
,
Changing Bags
,
Children Fashion Online
,
Childrens Book Club
,
Childrens Dressing Up
,
Childrens Hairdressers
,
Christening Gifts
,
Christening Gown
,
Cot Mattress
,
Cribs, Cots & First Beds
,
Eco Friendly: Online
,
Family Videos
,
Farm Shop
,
Food Boxes
,
Green Shopping
,
Magazines
,
Mail Order
,
Maternity Bra
,
Maternity Clothes
,
Murals
,
Name Tapes
,
Nappies, Cloth
,
Nappy Laundry Service
,
Natural Baby Products
,
Nearly New Baby
,
New Baby Gifts
,
Nursery Furniture
,
Nursery Interiors
,
Outdoor Clothing
,
Outdoor Toys
,
Personalised Baby Gifts
,
Playhouses and Tents
,
Portraits
,
Pram Repairs
,
Pregnancy Maternity Clothes Online
,
Premature Baby Clothing
,
Rocking Horse
,
Shoe shop
,
Toy Shop