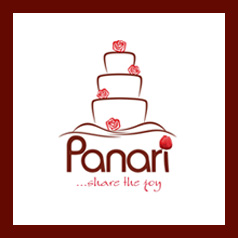 020 8699 1999

Panari Cakes is a family owned and operated bakery serving London and the surrounding counties. We began in 2001 from a small flat kitchenette, supplying cakes to friends and family. Demand grew slowly but steadily until it became clear that our domestic kitchen could no longer keep up with demand.
From the flat we moved to our first business premises, a 500 square foot business unit in 2007. Our customer base continued to grow and within two years we were ready to move to our current location, a 2500 square foot unit in 2009.
With a team of six we produce a wide variety of custom ordered creations, including a selection of standard cakes, catering to a broad selection of styles. Edible portrait cakes have become a unique choice for our customers allowing us to customize cakes using your favourite photos.
For walk in customers, colour portfolios containing a variety of photos are available to assist you in selecting a design. For those unable to come in person, a selection can be made from this site and phoned in to the bakery at your convenience. Consultants are available to answer any questions, provide cake tasting and help design cakes customized to your wishes.
Appointments are highly recommended.

Reviews
Be the first person to review this local listing, just add a review below.