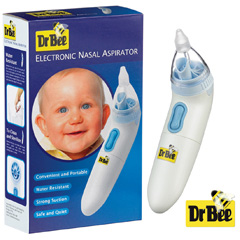 0115 849 0907

The Dr Bee Electronic Nasal Aspirator is the top-of-the-range aspirator currently on the market.
Using the aspirator is very easy. Simply insert the nozzle into the baby's nose to create a gentle seal between the nostril and the nozzle; once in place the vacuum inside the collection chamber will extract the unwanted fluids from the nose. To assure the baby does not feel any discomfort, there are three nozzles included in the box. The yellow nozzle is for infants, making the apparatus suitable from birth.
The nozzles are flexible so should the baby move its head it will in no way be harmed. Once they grow up into toddlers, the larger white and blue nozzles are more suitable, as the width will fit their nostril more comfortably. There are no disposable parts and therefore it is very economical and environmentally friendly. All parts in contact with germs and secretions can be cleaned and sterilised.
Unlike all other aspirators, it is very mobile and suitable to be used anytime and anywhere. Manual aspirators require constant movement of the hand or suction created by the parent, which distracts from the main goal. With the Dr Bee Electronic Nasal Aspirator one can hold the apparatus very steadily in one hand and the baby in the other whilst clearing the nose causing no distress to either baby or parent.
Included in the box are three nozzles, a storage pouch for everyday use or transport in the nappy bag along with batteries, so one is ready as soon as it comes out of the box.
To read what other babydirectory.com readers thought of this product view our product guide here.