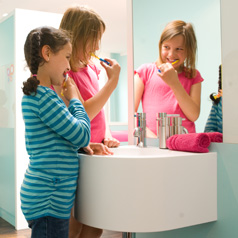 BEST PATIENT CARE AWARD 2009
358A Richmond Road, East Twickenham, London
TW1 2DU
020 8831 6870

Has there ever been a time when you wish someone had shown you how to clean your teeth, so you could have prevented that filling?
Toothbeary is a completely new type of dental practice designed solely for children up to the age of 18 years. Toothbeary offer the very best possible oral care from a young age with a strong emphasis on prevention rather than cure.
Two key factors to good oral hygiene are education and prevention.
Toothbeary's toothbrushing school teaches children and parents effective brushing and flossing habits. Giving one to one attention and meeting each childs individual needs helps provide the tools for a lifetime of healthy smiles.