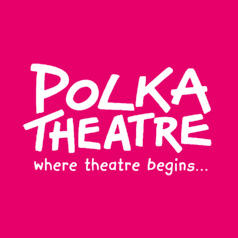 240 The Broadway, Wimbledon, London
SW19 1SB
020 8543 4888

Visit Website
Request Information
A dedicated and comprehensive children's theatre. Daily shows are held at 10.30am and 2pm. There's also the opportunity to see costumes and props from previous shows in the exhibition centre. Your children can run around in the adventure playground or have a snack in the café. Other activities take place at the weekends and during school holidays. Call or visit website for more details.
We strongly recommend you ring Polka Theatre for Children before you set off on your family day out, to make sure they are open and to confirm admission prices.
It may also be worth visiting the website for Polka Theatre for Children, www.polkatheatre.com, to see if there are any special events on the day for which you may have to book a ticket.
Please also be aware that if Polka Theatre for Children hosts birthday parties, this may limit the access in the cafe/restaurant areas.
Reviews
Be the first person to review this local listing, just add a review below.
Quick Links:
My Area:
Aeroplanes and Boats
,
Aquariums
,
Art Centres and Galleries
,
Baby Shows
,
Castles
,
Children Farm
,
Childrens Theatre
,
Cinemas
,
Cookery
,
Family Restaurant
,
House and Garden
,
Ice Rinks
,
Museums
,
Nature Reserves
,
Outings
,
Parks and Gardens
,
Steam Train
,
Theme Parks
,
Zoos