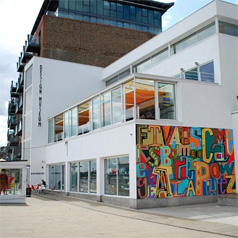 Shad Thames, Bermondsey, London
SE1 2YD
020 7403 6933

Located mext to the Thames within easy walking distance to London Bridge and Tower Hill, the museum offers faily exhibitions and events.
Free Entry for children aged under 12 years. They also have a cafe.
Reviews
Be the first person to review this local listing, just add a review below.
Quick Links:
My Area:
Aeroplanes and Boats
,
Aquariums
,
Art Centres and Galleries
,
Baby Shows
,
Castles
,
Children Farm
,
Childrens Theatre
,
Cinemas
,
Cookery
,
Family Restaurant
,
House and Garden
,
Ice Rinks
,
Museums
,
Nature Reserves
,
Outings
,
Parks and Gardens
,
Steam Train
,
Theme Parks
,
Zoos