Back to Competitions
Win a PacaPod changing bag with the new Metanium Everyday Easy Spray Barrier Lotion
To celebrate the launch of Metanium Everyday Easy Spray Barrier Lotion, we have 2 stylish PacaPod changing bags, together with a sample of the Metanium Easy Spray to keep in your bag for all of those little emergencies.
The new double-action Metanium Everyday Easy Spray Barrier Lotion protects and moisturises skin to help prevent nappy rash by forming a barrier to protect delicate skin from the irritants that can cause nappy rash. A quick spray is all that is needed, with no need to rub it in, so application is extra-kind to baby's delicate skin.
Easy Spray has a unique, water-free formulation to create a strong barrier. Both urine and faeces contain water, so any water-based lotions are unlikely to give good protection from nappy rash. Similar in formulation to the Prima Baby magazine Gold award-winning Metanium Everyday Barrier Ointment, Easy Spray is fragrance, lanolin and preservative free, and is gentle enough to use at every nappy change.
Most babies get nappy rash at some time in the first 18 months and NHS Choices recommends the use of 'a barrier cream' as part of an effective skin care routine to help prevent this. If nappy rash does strike however, then Metanium's Nappy Rash Ointment works really well in treating this - Metanium Nappy Rash Ointment is a medicine, always read the label.
The PacaPod Mirano changing bag (rrp £100) has a 3-in-1 organising system, with a changer pod, feeder pod and changing mat, so ideal for keeping yourself organised whilst running around. We also have 10 runners up prizes of Metanium Busy Baby Planners, they're perfect in helping you keep track of your busy week.
Visit www.metanium.co.uk for more information about the Metanium range and advice about nappy rash.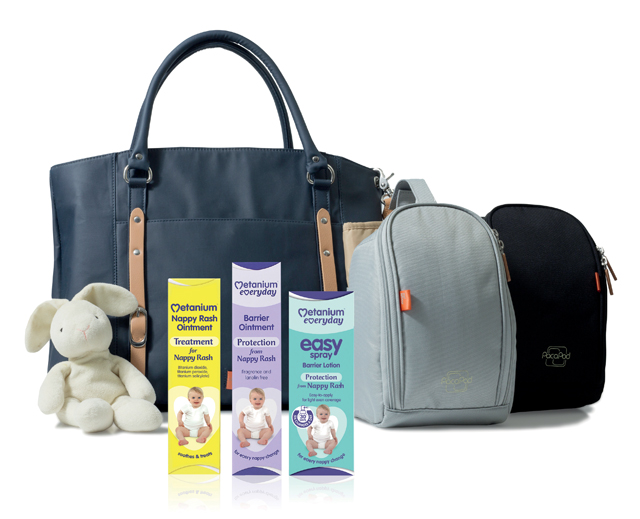 Terms and Conditions: These competitions are open to UK residents except employees of The Baby Directory and anyone associated with these promotions. The closing date for entries to the competitions is midnight 31st December 2014 and winners will be announced by 7th January 2015. The winners will be selected at random from all senders of valid entries received by the closing date. Winners must reply with details requested within two weeks from the date notice of winning was sent or they will forfeit their prize. No cash alternatives or substitutions; the prizes are not transferable.