Back to Competitions
Win an interactive Winnie the Pooh bear
Winner: emmaand3, Mother of 3, Gloucestershire
We have a fantastic prize on offer this month - a Winnie the Pooh Interactive Friend from Worlds Apart.This wonderful cuddly bear is designed to help children get into daily routines. Once set up this intelligent toy will switch modes throughout the day and talk to your child with over 50 phrases as he guides and prompts your infant to get dressed, brush their teeth, feed him, play with him and settle down at bed time. Pooh can be set so that if your child wakes up in the night he will snore gently to tell him that it's not time to wake up yet and before switching to play mode with a beaming 'good morning friend' when it is time.
When Pooh isn't helping your child with his daily routine he's a playful character and with the help of an adult or older child be used for a fun hide and seek game. Available with snooze mode, this adorable bear will have your little one sticking to a routine in no time. Click here for more information on this clever bear.
All you have to do to be in with a chance of winning this ingenious toy is send us a review of your favourite zoo telling us what you think is so good about it. Why not have a look here to find your nearest zoo, simply update your postcode to see whats in your area.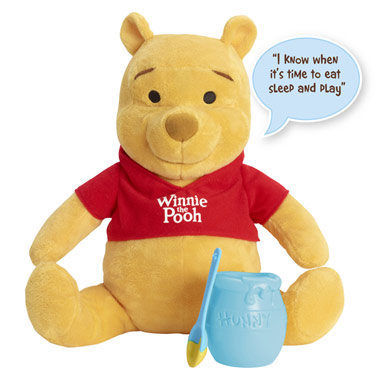 Terms and Conditions: Terms and Conditions: These competitions are open to UK residents except employees of The Baby Directory and anyone associated with these promotions. The closing date for entries to the competitions is midnight 30th September 2011 and winners will be announced on 1st October 2011. The winners will be selected at random from all senders of valid entries received by the closing date. Winners must reply with details requested within two weeks from the date notice of winning was sent or they will forfeit their prize. No cash alternatives or substitutions; the prizes are not transferable.