Back to Competitions
Win a Bloom luxo cot worth £650
Winner: babybabybabyB, Mother of 1, Gloucestershire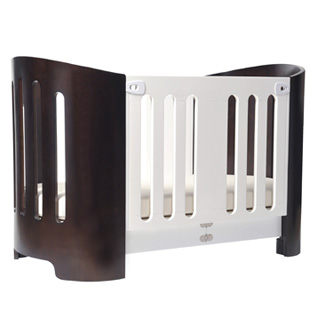 The luxo from Bloom is a beautifully designed cot bed crafted from sustainable birth wood and boasting stainless steel detailing. With gently curved ends that cocoon your sleeping baby and promote air flow, the luxo provides the ultimate in style and safety for newborns to chidlren of six years old.
Equipped with a patented adjustable side rail to allow easy access and a simple folding design, the luxo brings a touch of contemporary style to your home. It is also reassuringly strong and well made while being surprisingly easy to fold and move across a room on its four lockable castors.
Like all bloom's products, the luxo can be quickly and easily assembled (with no tools at all). Throw in the appeal of bloom's elegant and innovative design - a simple conversion rail is available to extend luxo's life into an elegant bed as the baby grows - and it's no wonder that the luxo has become the crib of choice for a growing number of UK parents who appreciate form, space and style.