Baby
Days Out
Pyjamas in the park at LEGOLAND
Theres a quirky competition going on at LEGOLAND Windsor on 1st October.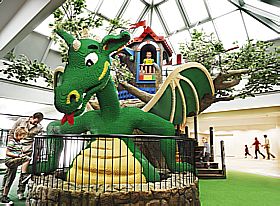 In one weeks time LEGOLAND Windsor begins booking for its brand new fully themed hotel that will open at their Windsor Resort in March 2012. To celebrate this launch LEGOLAND are giving away a whole hotels worth of rooms away on October 1st.
The hotel is to be geared to family fun, with lots of quirky features like hidden whoopee cushions, exploding toy boxes and themed bedrooms like Pirate, Kingdom and Adventure, that children will love. The hotel and rooms are to be littered with interactive challenges and getting them outside to visit the rest of the resort might be trickier than first thought!
The LEGO theme will run right through the hotel and there promises to be plenty of activities to keep little minds engaged during their stay. Sat on the edge of 150 acres of parkland, the hotel promises a full programme of children's entertainment as well as a LEGO pirate themed splash pool and play areas.
So how do you win a free ticket for your family to stay? Ah. The prize tickets will go to the first 150 people who turn up to LEGOLAND Hotel booking desk on October 1st with their families all wearing their pyjamas.
What do you think guys? Will you be heading down in your nighty or does the thought of this competition make you a little apprehensive? And what's the zaniest thing you've ever done for a competition? We'd love to hear your comments.
For extra info or any questions about terms and conditions call or email:
020 7402 9966
Have Your Say
Be the first person to comment on this article, just post a comment below.