3-5
Shopping
Don't get caught out after dark without your Buggi Lights
As the nights are drawing in you may be wishing you had a little extra visibility for your buggy when out of an evening or early morning.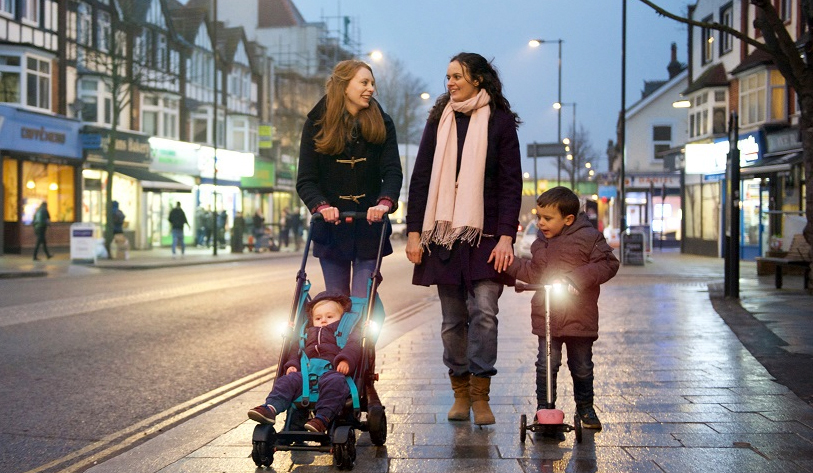 These adorable ladybird Buggi Lights are a fun and simple way to make your buggy more visible after dusk or in the early mornings (now that winter months are well and truly upon us).
Buggi Lights were launched in January 2013 and were the brainchild of Anna and Tom, whose son Sam at - three months old was still a very long way from sleeping through the night. Every afternoon they would take him for a walk to help him nod off to sleep, but found that by the time they left the house at around 3pm it was already starting to get dark. Despite the street lights, Anna and Tom didn't feel quite safe pushing a black buggy in front of them in the dark, and decided they needed lights. Everything else had lights - bikes, cars, mobility scooters, but not their buggy with their precious son Sam inside.
And so the idea for Buggi Lights was born, with Tom coming up with the idea of using colourful ladybirds that have a simple strap to easily attach them to the buggy.
Aside from being a clever little safety device, these little glowing ladybirds look fun, so your children will like them on their buggies and they are also ideal as scooter lights or bike lights for children over the age of three. Each pack contains two easy to clip on Buggi Lights, one white light to face forward and one red light to face backwards, with three flash settings.
For more information visit buggilights.com. Buggi Lights can be purchased through their website and are also stocked at Hippychick, Boots and Amazon.

Have Your Say
Comments in chronological order (Total 1 comments)
Miss Moss
19 Nov 2014 12:58pm
We love our Buggi lights! They were very easy to attach to our pushchair, easy to switch on and easy to operate the three different settings (flashing, fast flashing, not flashing). We live in a rural village, up on a hill so it can be quite foggy and not very well lit when it is dark, these lights have been great for the walk to and from school as I feel safer in the knowledge that any passing cars are more likely to see us now that we have these buggy lights attached to out pushchair. Like wise if we are in a busy place it is easier for my eldest child to find us with these flashing lights and I would imagine they would be useful in carparks, crossing roads etc especially at this time of year when the hours of daylight are reduced. Overall we are very pleased and won't be taking them off.