3-5
Shopping
New summer collection from BabaSling
Be hands-free whilst out and about this summer with the new collection of slings from BabaSling. Three new summer floral prints in chic black and white are a limited edition (so choose a favourite before they're gone); and an ultra-lite range, in four bold colourways, is perfect for hot holiday climates to keep baby and you cool on your travels.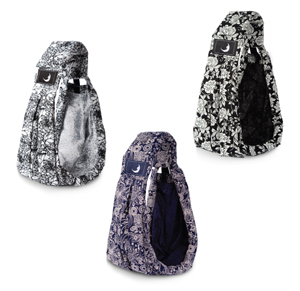 Reviews of the BabaSling rave about the five different carrying positions from on the hip, to across the body - as well as providing a discreet cover for breastfeeding whilst out and about. Each sling comes with a "how-to" instruction book demonstrating how to put the sling on for each of the five positions and suggestions for each age group (suitable from newborn-2yrs). It's essential reading to get the most out of the sling and for ensuring that babies are well-supported and have access to enough air.
The three floral fabric designs are a new addition to the BabaSling signature colourways and are perfect for fashionista mums on the go, although it might take a bit of persuasion for machismo dads. Produced in a limited quantity they are available from the end of April at £44.99.
Perfect for hot summer days, or when travelling to hotter climates, the new BabaSling Lite - is a range made from an airy cotton to keep you cool and comfortable without concerns for quality or durability. In four bold colourways, turquoise, coral, fushia and charcoal grey the BabaSling Lite is ideal for negotiating airports, jumping on public transport (meaning you can leave the buggy behind) and leaving you hands free. Available from May it retails at £39.99.
Visit www.thebabasling.com for more information.

Related Products
Purepotions, Skin Salvation Bath Oil
Vital Baby, Nurture breast-like feeding bottle
Have Your Say
Comments in chronological order (Total 9 comments)