3-5
Shopping
The Little Picture Company
Check out this wonderful new online art gallery if you want something more magical and artistic to adorn your child's room.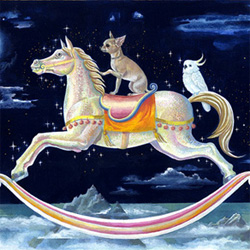 When Anita Singh wanted to decorate her little girl's bedroom, she found the options on the high street somewhat lacking. There were delightful cartoon characters emblazoned on various posters and such like, but she simply couldn't find anything as inspirational as the illustrations or stories found in the best children's fairy tales; images that would create a truly special space that looked gorgeous and encouraged a young imagination to blossom. So she started her very own art gallery!
Proper art for little people
The Little Picture Company only launched in May 2010, but Singh had been exploring the idea for some time. Encouraged by the enthusiastic enquiries from friends and family after she sourced beautiful art for her own daughter's bedroom, she polled opinions from a wider circle and realised that there was a real desire from parents for original art for children.
'What I saw on the high street just seemed really quite patronising. As new parents we want our children to be fed the right things so we give them organic food,' explains Singh, 'but I feel we need to feed their minds with the right things too.'
The company's website is an online gallery for the work – with profiles of the artists currently contributing to the collection. There is a gallery of existing art to buy under several themes (from new baby and naming gifts to storytelling works) but the company also takes on special commissions.
Prices start from around £55 with special pieces selling for £300 or more. This is most definitely not your everyday wall art for kids' rooms, but all works are specially prepared so they won't fade and instead will become treasured family pieces.
Looking for the stories in the art
'We launched with four artists and have just taken on another person now,' says Singh. 'They all have their own styles but the one thing I always look for is a notion of storytelling. A child should be able to be transported to another land; my daughter can create stories, imagine and dream of stories for herself from what she sees in the details, stories behind stories. At first we used to talk together about what pictures meant to us, now she can see a different story in them herself each night.'
Although the work is available to see online, The Little Picture Company is intending to mount exhibitions so that people can see works at close quarters. Keep an eye on the website or visit the stall at the Baby Show (Earl's Court, London) in October.
'You can get a feel for what we do online,' says Singh, 'but people do relate differently when they can see a work of art in front of them.'
Find out more
All works from The Little Picture Gallery are sent out beautifully wrapped and carefully packaged – 'It's a treat to receive one,' laughs Singh.
To find out more, visit their website, thelittlepicturecompany.org.


Have Your Say
Be the first person to comment on this article, just post a comment below.