3-5
Shopping
BornFree – the natural approach to bottles
Feeding time is magical. It's a time for closeness, eye contact, and bonding between you and your new baby. The right feeding system will make all the difference and allow you both to enjoy this experience together.

BornFree baby bottles are especially designed to make your feeding experience as special and productive as possible. All babies are unique and their needs fluctuate throughout the day, especially during feeding – initial hunger can soon give way to a more satisfied suckle. The innovative BornFree venting system caters for all feeding babies, regardless of size, age, hunger or other factors, by putting the flow of milk in the hands of your baby – like nature intended.
How your baby stays in control, with BornFree
How does it work? The free flow silicone air valve incorporated into the venting system breathes together with your feeding baby and starts a steady flow of liquid only when your baby suckles, just like breastfeeding. This stops your baby overfeeding and makes for a comfortable and easy feed for both of you. The BornFree two-part venting system in each bottle is especially designed to minimize the painful symptoms of colic and middle ear infections by reducing the build-up of pressure inside.
The bottle feeding range also features wide neck soft silicone nipples in five flow rates to accompany your baby from newborn and up. Made from high quality and durable Bisphenol-A Free plastic, BornFree leak-proof bottles are dishwasher and microwave safe and will last and last.
BornFree for toddlers, too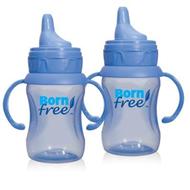 The BornFree training and drinking cup range also features the BornFree venting system, allowing for a free flow of liquid and reducing the hard sucking that often leads to ear infections in small children. The teething-friendly chewy spouts are a big favorite with children and can be bought separately. The BornFree Twist'n'Pop Cup with its pop-up straw, is a great addition to your toddler's bag at playgroup. The BornFree baby bottle and cup range is fully interchangeable making it super convenient and economic at the same time, when you want to mix and match lids and cups.
BornFree continues to develop new and exciting products: orthodontic pacifiers with anti-rash shields, multipurpose silicone teethers for cleaning and soothing sore gums, protective sleeves for glass bottles, formula dispensers and more. All with the BornFree BPA-Free guarantee.
BornFree: a unique range of baby products for unique babies everywhere.
For more about the range, for stockist details, or to buy online, go to www.babybornfree.co.uk.
Have Your Say
Be the first person to comment on this article, just post a comment below.