3-5
Health
Parents! Become a Baby Massage Instructor
A carefully designed, intensive baby massage course is being offered in centres across London. They cover all you need to know about massage as well as teaching baby massage to other parents. This is a rare opportunity to learn from the founder of the International Association of Infant Massage (IAIM) and top baby massage guru, Sylvie Hetu.
The foundations of this baby massage course, taught by Sylvie Heto, is inspired by Indian and Swedish massage, reflexology and yoga, and has been especially developed for newborns and toddlers up to 12 months old.
The benefits of massage are well known, but in babies there is a particular emphasis on reducing tension - fundamental for good sleep patterns, as well as stimulating the immune system and enhancing growth and development. Parents also see the benefits of baby massage which can reduced the symptoms of postnatal depression as well as reinforcing confidence in first-time mums and dads.
Instructor, Sylvie Hetu, is one of the world's most renowned baby massage teachers. For the last 28 years she has established the International Association of Infant Massage (IAIM) in over 35 countries including her native Canada. She's a steiner-trained teacher, anthroposophist, writer and international lecuturer as well as a baby massage parent educator.
The 4-day course covers all the fundamentals of baby massage and is designed to set you up as a local baby massage instructor, allowing you to share in supporting your local community whilst you earn. To register for the course please contact the course coordinator, Mary Beattie on 020 7328 8486 or email: train@babyandchildmassage.co.uk. Further information about the course can also be found at www.babyandchildmassage.co.uk/baby-massage
Course dates
28-31 May: Kairos Centre in South West London
10-13 Sep: Kairos Centre in South West London
22-25 Oct: Rudolph Steiner House in Central London by Regents Park and Baker Street
The four days run 9am-5pm.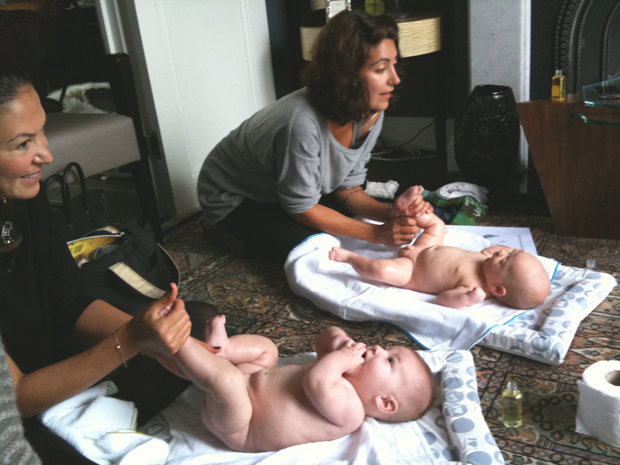 Related Forum Topics
Forums: 3-5yrs
Have Your Say
Comments in chronological order (Total 1 comments)
mini massage, Lancashire
27 Jul 2012 7:57pm
I would definately recommend this course. I trained with the IAIM and Silvie Hetu delivered the training in Liverpool. The course was amazing and Silvie has so much knowledge and experience to share. Her training style and delivery was second to none, I was delighted with the whole experience. I have gone on to develop my own groups and it is a wonderful experience. I have a long career in child care and working with babies and families behind me and I do feel that infant massage was the one thing that was missing from my career. I am now happy to say my career is now complete, I just wish I had found the IAIM and Silvie Hetu sooner! Carol Mini Massage: Infant Massage for Baby and You