3-5
Education
How to train your water baby
Taking swimming lessons is a normal part of growing up, but how early on in life do you think you should start to swim?
Taking swimming lessons is a normal part of growing up, but how early on in life do you think you should start to swim? Leading swimming expert Laura Molloy is the founder of Swimbabes, and she believes every baby should learn to swim so that, if they ever find themselves in a life threatening situation in water, they are equipped with vital survival skills that will aide them.
Laura says: "Swimming is so much more than just a recreational activity. The earlier you can get a child into the water, the better. Little ones who are introduced to water from a young age learn key life saving skills, have a greater regard for water and are safer around it; they feel safe and secure within it. Learning to swim familiarises babies with deep water and gives them the confidence to move safely in water."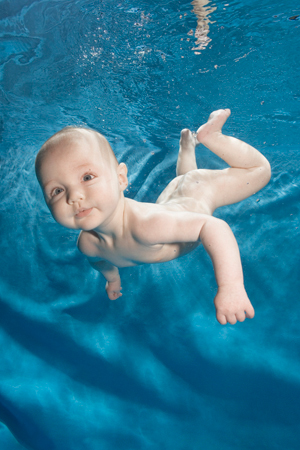 From as young as a few weeks old, babies can take to the pool with their mums and learn the fundamentals of swimming, from turning onto their backs to not swallowing if their heads go under the water. Laura stresses how important this growing familiarity with water is, largely because water holds such a fascination for young children, whether it is a garden pond, a fountain, an outdoor pool or a lake. The Royal Society for the Prevention of Accidents (RoSPA) reports many cases where children under the age of six have drowned at residential locations, often when a guardian's attention has been diverted for just a few moments.
Children are also at risk in public places, as Claire Darlow discovered, when her two year old son, Euan, fell into a boating lake at the park. Because Euan had been taking Swimbabes classes since the age of 4 months, he was confident and calm in the water, and held onto the side until help arrived. Claire explains: "If it wasn't for what Euan learnt at his Swimbabes classes then he would have panicked and swallowed water, which ultimately leads to drowning. He has not only learnt to swim but he is confident in deep water and knows how to turn to correct himself. That's what saved Euan's life that day."
At Swimbabes, your child will learn a wide range of skills, including swim to hold on, safe jumps, underwater turns and being able to paddle across the pool independently while taking regular breaths. An award system of certificates and badges is in place, but most importantly your child will be learning how to save their own life, should the unthinkable happen.
For more information visit www.swimbabes.co.uk
Related Products
Have Your Say
Be the first person to comment on this article, just post a comment below.