The Tiger Who Came to Tea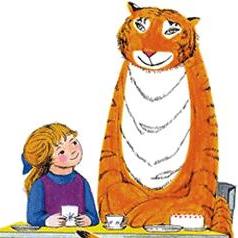 Visit Website
Info & Booking: check theatre's websites for specific dates, times and prices

Running: 3 Apr - 2 Sep

Spend a day with Sophie and her Mummy while Daddy's off at work. When teatime arrives, so does a surprise guest...

He is not your everyday feline, so don't expect a single roar coming out of his mouth. How can they turn away such a polite tiger? Tiger? That's right, a tiger has come to tea! And he's brought flowers!

But this tiger in gentleman's clothing can't keep his good manners going for too long. Find out what happens when he starts to eat all the sandwiches and cake, even "all the water in the tap".

Based on the best-selling book by Judith Kerr, David Wood's stage adaptation is as funny and delightful to watch as it is to read. Songs and audience participation make this show a perfect introduction to the theatre for children.
Illustrations copyright © Kerr-Kneale Productions Ltd 1998