Change
Current Location:
SW1W 8EL
Emily Evans, Emily evans stretch-mark cream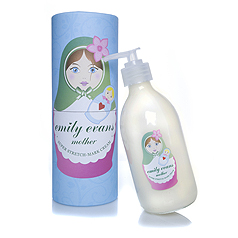 RRP: £38.00
Visit Website

Emily's special blend of seaweed, vitamin E and shea butter is wonderfully hydrating and helps to soothe and regenerate the skin. The natural ingredients have been used for centuries to heal scar tissue and breathe new life into tired skin, while the comforting blend of lavender, patchouli, geranium and bergamot have been carefully selected to help calm and de-stress.
Reviews
Be the first person to review this product, just add a review below.
Quick Links:
,
Baby perfumes
,
Baby Wipes
,
Balms
,
Bathing
,
First Aid
,
Moisturisers
,
Nappy Creams
,
Pregnancy Stretch Creams & Oils
,
Sanitisers
,
Sun lotion